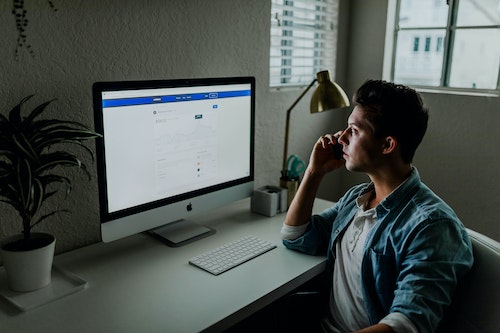 28 Dec

A Guide To Creating An Affiliate Program For Your eCommerce Brand

Are you looking for a new marketing channel for your ecommerce business?

Would you like to have a network of experienced marketers to promote your products for you?

If you answered yes to either of the questions above, then you should consider creating an affiliate program. With an affiliate program you can get more customers for less effort by leveraging the experience of other marketers.

In this post I'll show you how to create an affiliate program, including:
What an affiliate program is
How to find and recruit affiliates
How to to manage an affiliate program
Tips to motivate your affiliates and set them up for success
Read on to learn how to set up an affiliate program for your ecommerce store and get tips on how to make it one of your best customer acquisition channels.
What is an affiliate program?
Affiliate marketing is a type of referral marketing. It was made popular by Amazon when they introduced their Amazon Associates program which allowed people to earn commission for referring sales to them.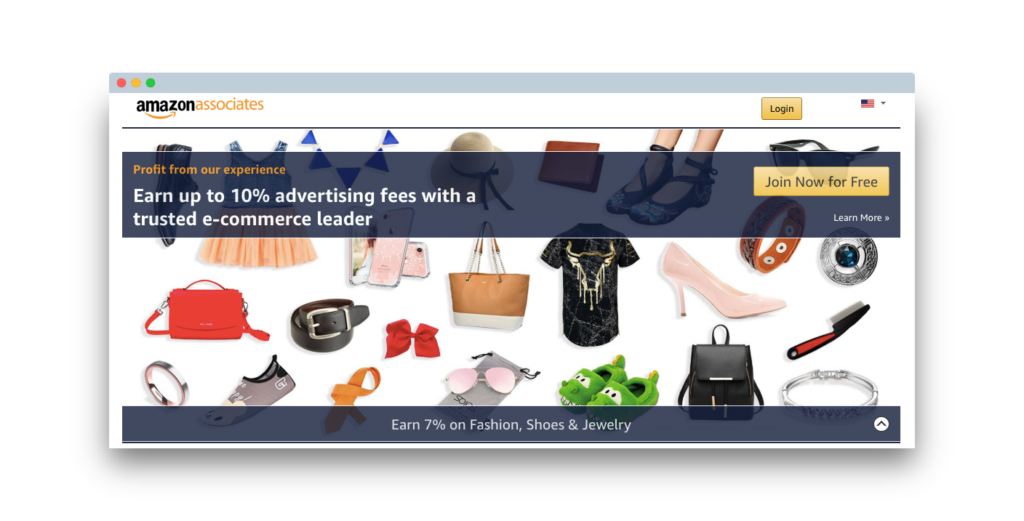 Over the years affiliate marketing has grown, and today 81% of brands use some type of affiliate marketing to acquire more customers. And it's not just big brands either, there are examples of family-owned businesses who have successfully launched their own affiliate program.
If you think affiliate marketing is right for your business then you'll want to decide whether you should join an affiliate network (to get instant access to affiliates) or create your own affiliate program and recruit your own affiliates.
If you're unsure about which option is best for your business, check out this guide from Neil Patel. In it he mentions 3 questions you should ask yourself before making a decision.
For the purpose of this post, I'm going to discuss how you can create your own affiliate program because I believe that there are more benefits from going this route.
How To Find And Recruit Affiliates
Once you've decided that an affiliate program is right for your ecommerce business the next step is to find affiliates who are willing to promote your products to their audience.
Affiliates come in all forms, but ideally they would have an existing audience that's interested in the type of products you sell. Their audience could be in the form of an email list, YouTube subscribers, or social media followers.
Here are a few tips to find the ideal affiliates and then get in touch with them.
Get Help From Google
Hopefully you already have a good idea of who the popular bloggers and influencers are in your target market, but if you don't, you can find them using Google.
For example, if my store sold package free toothpaste then it's safe to assume that my ideal customer might be interested in living a zero waste lifestyle.
Since there are lots of blogs dedicated to reducing waste, their audience would probably be interested in my product.
To find bloggers who promote a zero waste lifestyle I just need to do a Google search for "zero waste" + "blog". Using quotations and a plus sign will help return relevant search results of blogs who hopefully aren't my competitors.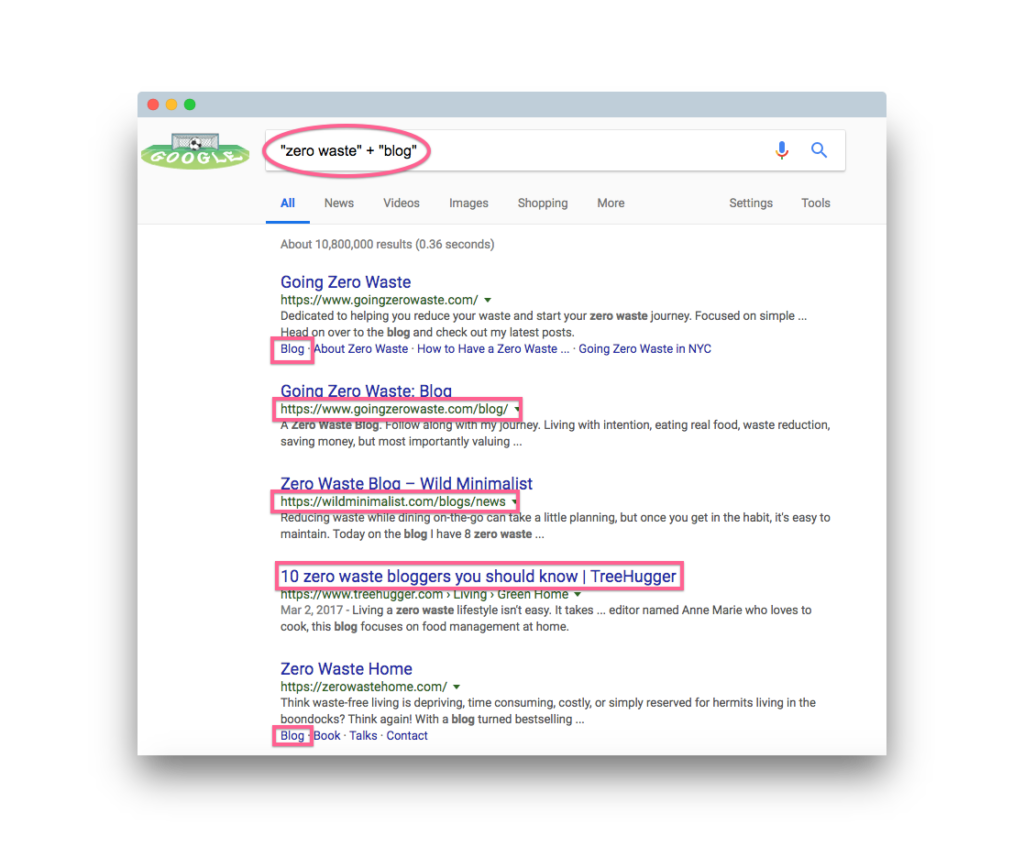 See Who's Linking To Your Competitors
Do any of your competitors have an affiliate program? If so, their affiliates might be interested in promoting your products as well (especially if you pay a higher commission.)
To identify who some of your competitors' affiliates are, enter a competitor's URL into Ahrefs and you'll get a list of all of their backlinks.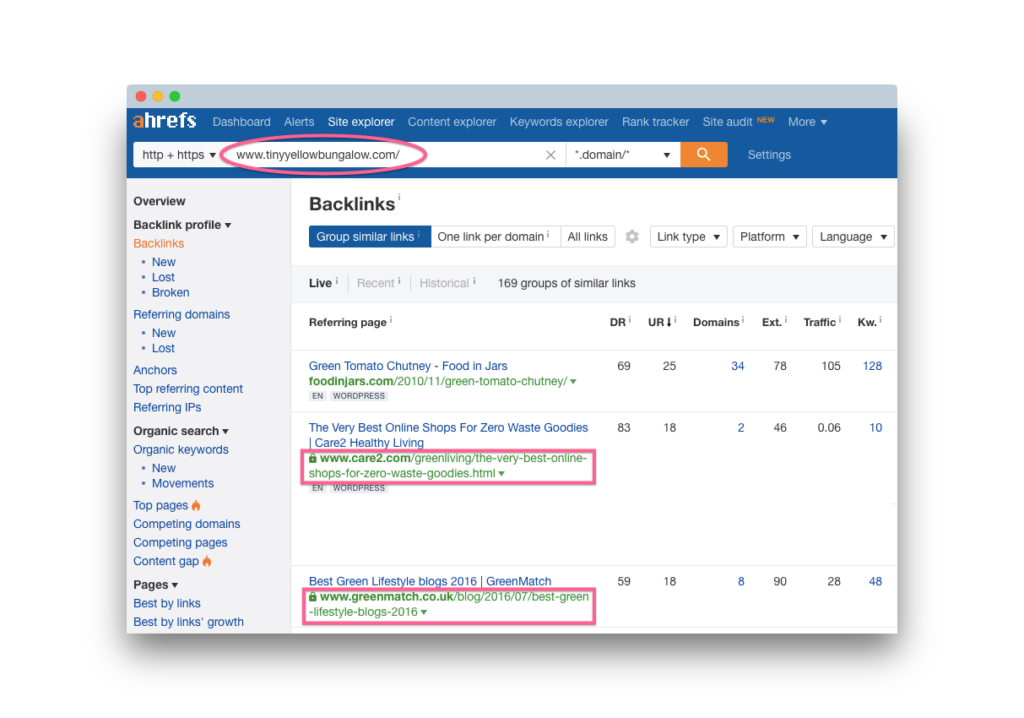 Some of the backlinks may be from affiliates or some might just be organic backlinks they picked up over time. Either way, if they're linking to your competitor then there's a good chance that they would be willing to promote your products.
Recruit Your Existing Customers
Your existing customers already use your products so they're likely to be your biggest advocates. This also makes them ideal candidates to be affiliates.
To encourage them to promote your products send an email to your customers announcing the launch of your affiliate program and the benefits of joining. A simple commission might be enough but if they love your products they might even be happy to get rewarded with a store credit for future purchases.
Here's an example of an email Vitamix sent which encourages their customers to refer their friends so they can earn a reward.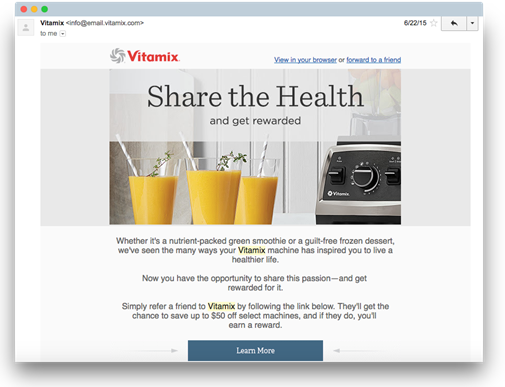 Whatever you do, take into account how many steps are involved in signing up for your affiliate program.
While an existing customer might be a great potential affiliate, if the sign up process is too long or complicated it might discourage them, especially if it's not high on their list or priorities.
To reduce friction and get your customers up and running as affiliates faster, I recommend automatically opting them into your affiliate program. This way you just need to send them their unique affiliate link and tips for how to promote your products.
Here's an example of how Daily Harvest helps encourage referrals by having each customer's unique referral code built into their account dashboard.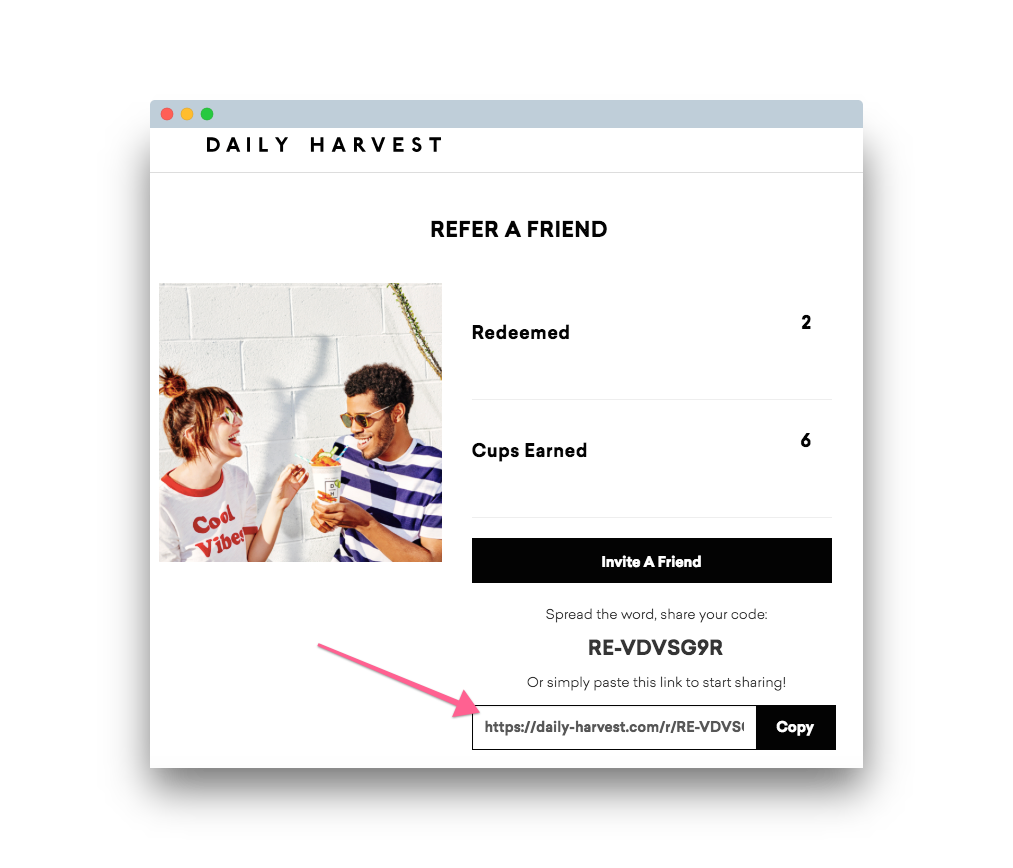 Add An Affiliate Sign Up Page To Your Website
This probably goes without saying but sometimes affiliates will come to you. When they do, the first thing they're going to do is look for a way to sign up on your website.
In fact, one survey found that over 51% of affiliates find programs from information on a merchant's website.
By adding an affiliate program sign up page to your website you not only make it easier to raise awareness about your program but it also serves as a valuable tool when you do outreach because you can send them directly to your sign up page.
Here's an example of the sign up page from The Honest Company's affiliate program. In this example they offer their affiliates a $20 store credit for each person they refer.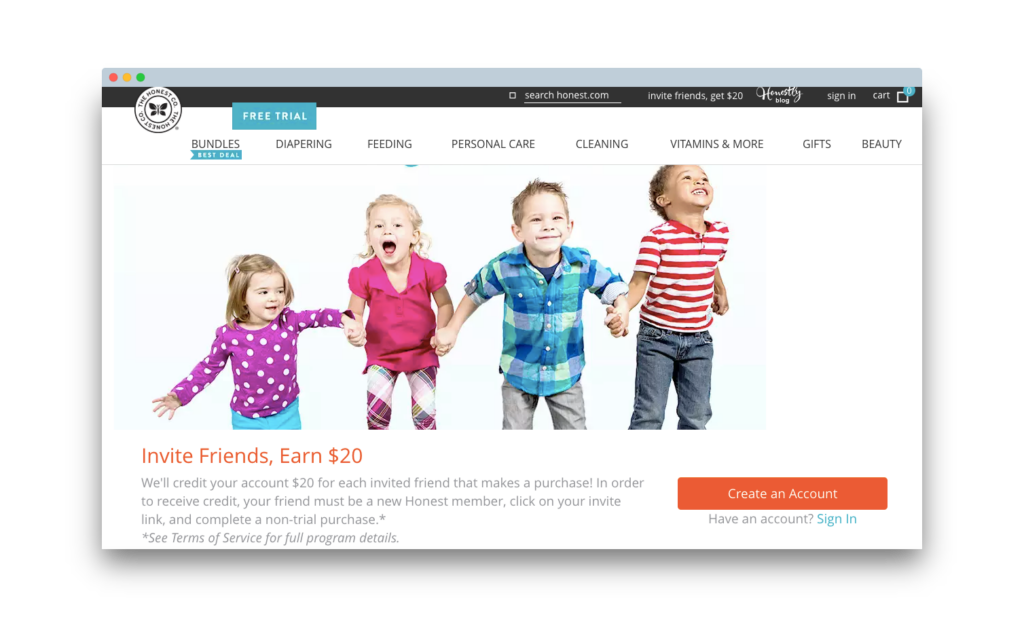 This type of incentive is perfect for brands who have an existing customer base who is passionate about their products because they can turn those passionate customers into brand advocates.
Find Them On Social Media
Potential affiliates can also come in the form of social media influencers.
Depending on your industry and the types of products you sell, one social media network may be better than another but there is one thing that most influencers agree on, Instagram is the most effective platform to engage their audience.
If you're brand is active on social media then you should hopefully have a good idea of who the influencers are in your industry. If you don't there are various ways you can find them.
You can search for hashtags related to your industry then look at the profiles of the users with the top posts.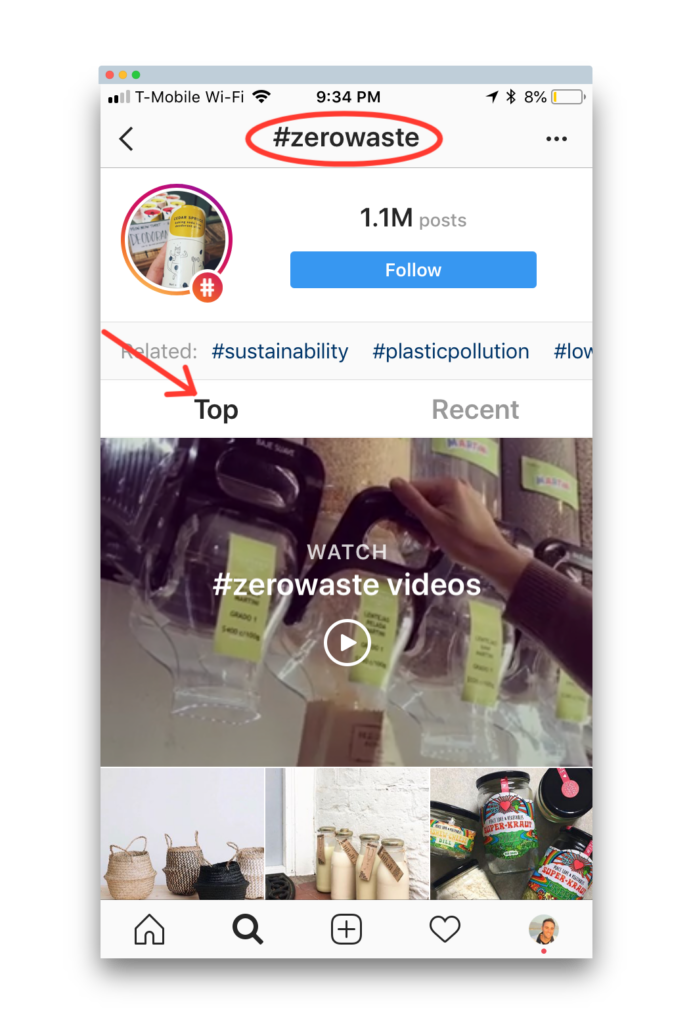 Or you can use a platform like Tomoson or Heepsy to find and recruit Influencers.
Whether you manually search for influencers or use a third-party tool, the key is to do your research to find the right influencers. The founder of Lily Jade did this and was able to generate 7 figures in sales through Instagram by just reaching out to bloggers who have Instagram accounts.
For more tips on working with Instagram influencers, check out this Instagram influencer guide for ecommerce stores.
How To Pitch Potential Affiliates
Once you've identified potential affiliates the next step is to contact them manually and pitch them on the benefits of joining your affiliate program.
I recommend using this Gmail extension from Clearbit to find their email address if they don't have any contact information on their website.
Once you've gotten their contact information, send them an email that includes the benefits of joining your program. In this case study about starting an ecommerce business, you can see the email that was sent to recruit affiliates. Here's an excerpt you can use to get ideas for your own outreach email.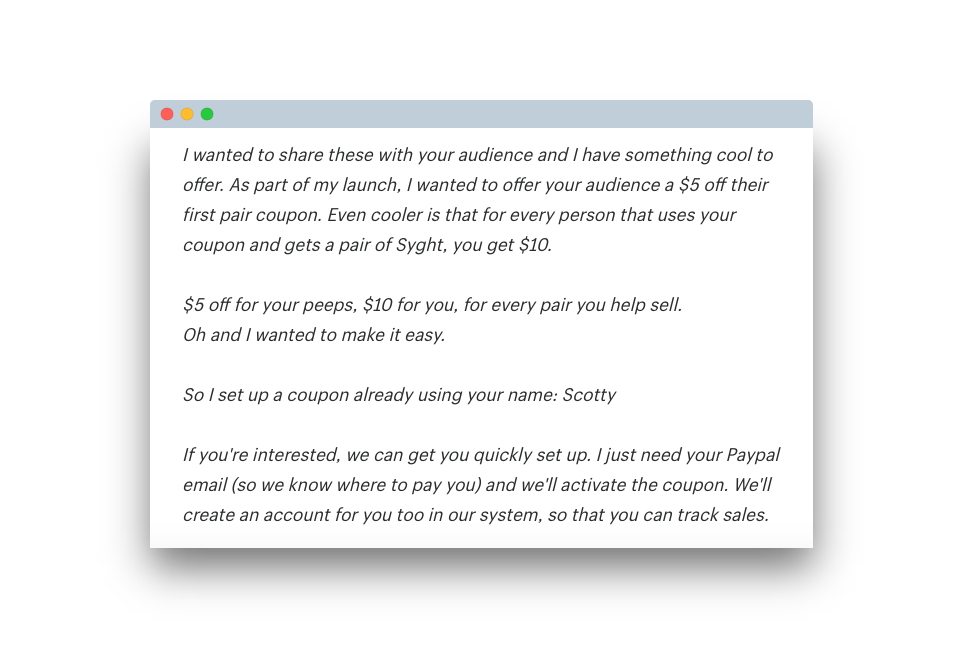 If you don't get a response don't give up!
Just because a potential affiliate doesn't respond it doesn't mean they're not interested. They might have not seen your email because their inbox was crowded or the timing just wasn't right.
Either way, I recommend following up at least once to see if they're interested. Use a service like Mailshake or Mixmax to automate the follow up for you since it can be hard to keep track of it all.
How To Manage Your Affiliates & Track Their Earnings
Now that I've shown you how to identify and recruit affiliates to promote your products you'll want to have a system in place for managing your affiliates and tracking their earnings.
Technically, you should have this part figured out before you recruit affiliates so they can get up and running quickly while they're still excited about promoting your products.
Managing an affiliate program can be a full-time job depending on the number of affiliates you have.
You'll need to answer their questions about any program terms you have (like where they can and can't promote your products), offer suggestions on how to best promote your products, and you'll also need to process their payments too.
This is why it's important that you choose the right software for your affiliate program. Good affiliate program software will make it easy for affiliates to service themselves so you can spend more time focusing on your business.
You'll want to look for affiliate program software that has features like automatic payouts, a dashboard for affiliates to view their earnings, and an area where affiliates can get access to assets like banner ads.
Here are a few options for affiliate management software that's worth looking into:
Tips To Run A Successful Affiliate Program
Once you've recruited affiliates and have a system in place for managing them you should focus your attention on helping them succeed.
By offering this extra bit of support you can help ensure that your affiliates will be successful at promoting your products, and most importantly, they'll enjoy doing business with you so they continue to refer sales to you in the future.
While there are many ways to build relationships and good will with affiliates here are a few that I recommend you do at a minimum.
Create Assets To Educate & Encourage Your Affiliates
Affiliates need encouragement and support. And the easiest way you can support them is by giving them the tools they need to succeed while staying in contact with them so your affiliate program stays top of mind.
Here's an example where Kettle & Fire does a good job of this. They send out an "Affiliate Playbook" to new affiliates which is a PDF of resources that includes promotion ideas and talking points.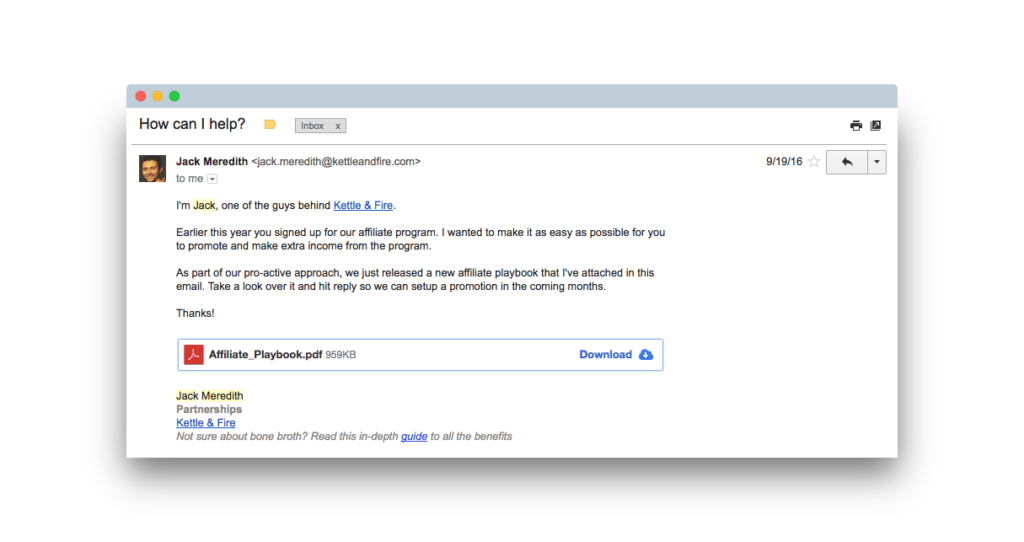 But don't just send one email, send a drip email campaign to your affiliates to nurture them. Here's their entire email sequence that Stencil sends to their affiliates to give you ideas about how to create your own email campaign.
Run Special Promotions To Help Affiliates Get Their First Sale
Once you have your affiliate program up and running you'll quickly notice that it follows the 80/20 rule where 80% of your revenue comes from 20% of your affiliates.
Some affiliates may never refer any sales to you for a variety of reasons, so one way to encourage them to promote your products is to help them get their first sale.
Once an affiliate earns their first commission they are more likely to keep promoting your products and send more referrals to you in the future.
In the example below notice how ConvertKit encourages new affiliates to get their first sale with a video plus a commission bonus.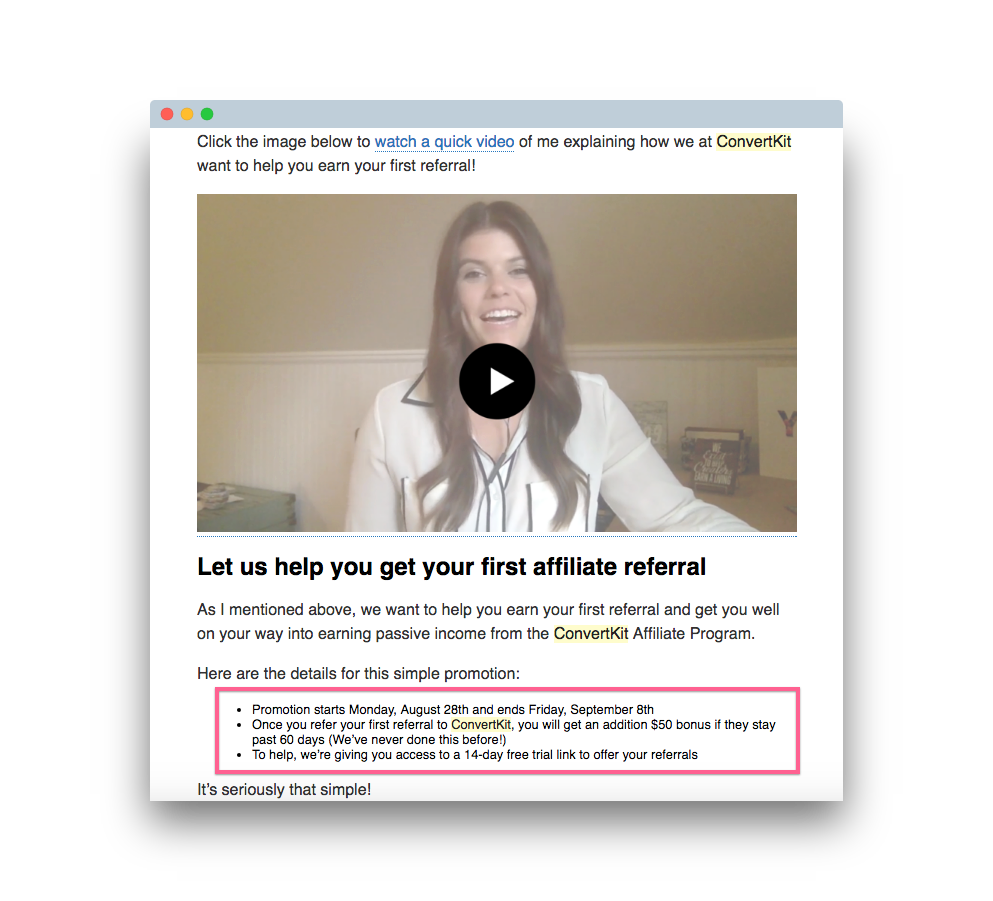 Create Customized Pop Ups To Increase Conversions
Once affiliates refer visitors to your site it's your job to convert them into customers. If visitors are converting well then both you and your affiliate will be happy because it's a mutually beneficial relationship.
So how can you help convert visitors into customers? Personalize their experience.
Since you have the unique opportunity of knowing how these referrals are finding your website you have the ability to customize their experience based on where they came from.
In this guide from Sumo, they recommend using their List Builder tool to trigger a popup that is tailored to match the audience based on the unique referral URL that your affiliate uses. With the pop up you can display a special offer to help increase conversions.
Pay Your Affiliates On Time
Last but definitely not least, make sure to always pay your affiliates on time. Otherwise, you run the risk of your affiliates having a bad experience and not promoting your products anymore.
Keep in mind that affiliates likely have expenses associated with promoting your products so it's important that you keep your commitments to them in order to maintain a good relationship.
You can do this by being completely transparent with them. Clearly state the payment schedule in your affiliate terms and conditions and if for some reason a payment will be delayed due to a holiday, be sure to over communicate with them so they can plan accordingly.
Final Thoughts
By now you should hopefully see the value in building your own affiliate program from scratch. If so, the tips I've given you will help you get your program up and running so you can add another marketing channel to help you acquire customers for your ecommerce business.
Much like any other marketing campaign, an affiliate campaign can be very rewarding as long as it's given the proper effort.
Over To You
Do you think an affiliate program is right for your ecommerce business?
I'd love to hear your thoughts! Send me a tweet if you have questions or comments.