13 Jun

7 Ways To Reduce Churn For Your Subscription Box eCommerce Business

Does your subscription box business have a problem with customer churn?

While customer churn might feel like a never ending challenge, it can easily be prevented. In fact, data suggests that up to 67% of customer churn is preventable.

To help you increase the lifetime value of your customers, I'm going to share 7 highly-actionable ways you can reduce churn for your subscription box business.

In the following paragraphs you'll learn:
How to incentivize your customers to commit to a longer subscription length
An automated process to resolve failed payments and prevent unwanted cancellations
Tips for building excitement about upcoming boxes to keep your customers engaged
A proven way to build brand loyalty and increase customer spending
Read on to learn more about the above strategies plus 3 more actionable ways you can reduce churn and increase the lifetime value of your existing customers.
1. Offer An Incentive To Pre-Pay For Multiple Months
With any subscription service most consumers will select the month-to-month option, mainly because it gives them the freedom to cancel whenever they feel like it.
While this is convenient for your customers it's not ideal for your business because it can make it harder to predict future revenue.
One way to create more predictable revenue for your subscription box business is to give your customers the option to prepay for multiple months.
But why would a customer prepay when they could just pay month-to-month?
The answer is there isn't much reason to, unless you give them an incentive.
By offering an incentive, such as a discount or an extra box, you'll encourage customers to pre-pay for additional months.
Here's an example from Sock Fancy, a sock subscription service.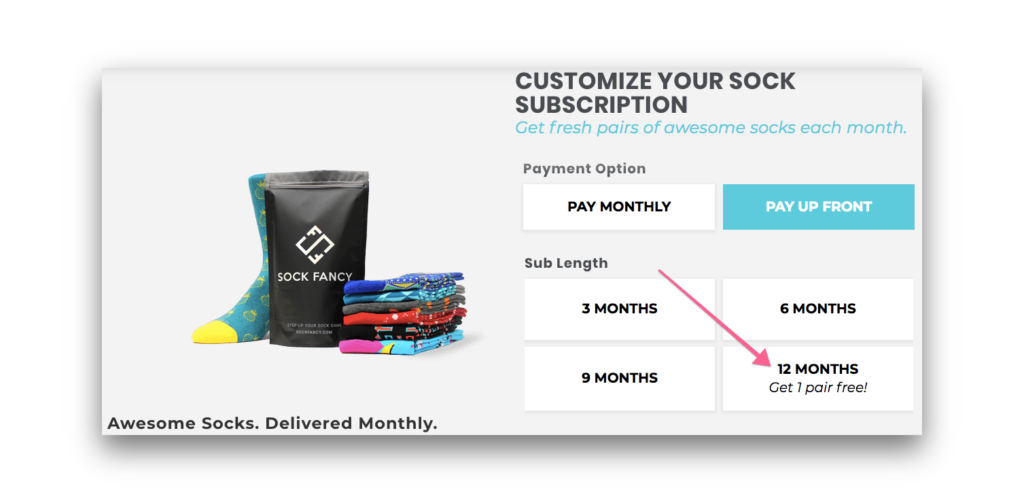 In the screenshot above you'll notice that they give their customers the option to "pay up front", and if they select a 12 month subscription they'll get 1 pair of socks for free.
This is beneficial for your business because the length of a prepaid subscription will almost certainly be longer than if they had been on a month-to-month subscription. And because you got that revenue in advance you can use it to acquire more customers faster than you would if the revenue was spread out into the future.
2. Send Dunning Emails To Recover Failed Payments
In ecommerce, failed payments are a fact of life, but that doesn't mean you should give up on those customers or spend all of your time chasing them to update their payment information.
Failed payments are a type of "involuntary churn", meaning it wasn't the customer's intention to stop using your service, and it can account for more than 30% of your churn.
The easiest way to reduce involuntary churn is to focus on the low-hanging fruit and use a service to help you recover failed payments. This type of service will attempt to automatically resolve any billing issues with retries, and then launch recovery campaigns so customers can update their payment information.
Here's an example of a dunning email from Daily Harvest.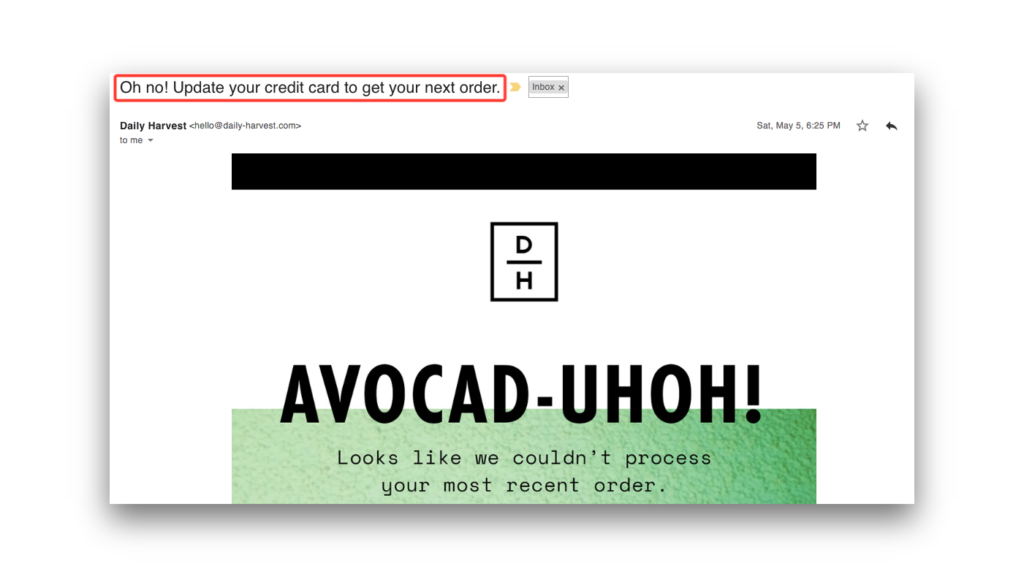 A good dunning email should have a subject line that grabs your customer's attention because first and foremost you want them to open the email.
Second, you want to clearly explain how to resolve the issue. Ideally you would send your customer directly to a secure page where they can update their payment information without having to log in (just in case they forgot their login credentials.)
This alone should have a big impact on reducing your churn, and what makes it even better is it will run entirely on auto-pilot.
3. Gather Feedback From Customers Who Have Churned
Listening to your customers is one of the best ways to learn how to serve them better, and some of the best customers to listen to are the ones who have churned because they usually give you the most actionable feedback.
To get more feedback from customers who have churned, it's helpful to create a process that gathers this feedback during the cancelation process.
Here's an example of how Harry's gathers feedback from their customers. When someone cancels they are asked to select from a handful of reasons why.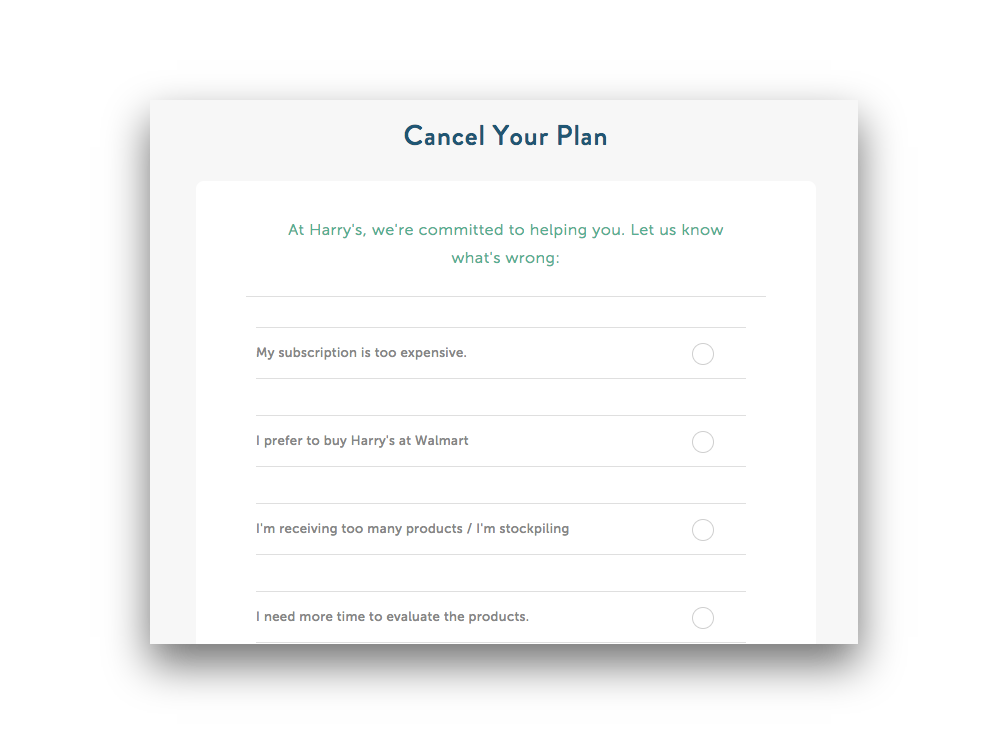 Once you've gathered a significant amount of feedback from customers who have churned you'll start to notice some common themes. Take the most common feedback you've received and use it to make adjustments to your service to prevent future customers from churning for the same reasons.
Here's a handy framework for how to take action based on the feedback you received.
If you don't have the resources to build this functionality directly into your website then you can achieve a similar result by sending an email to your customers once they churn. In the email link to a cancellation survey you've created in Google Forms.
Pro tip: For more actionable feedback ask your customers to expand on their choice after their selection. When Ruben Gamez of Bidsketch did just that, he was able to get 200% more actionable feedback from his customers.
4. Give Your Customers The Ability To Pause Their Subscription
There are many other scenarios that might cause a customer to churn due to no fault of your own.
An example of this could be that your customer will be traveling and won't have the ability to receive their shipment. In this scenario they might want to pause their subscription and resume again once they return from their trip.
However, if your subscription box service doesn't give your customers the ability to pause their shipment for a month they may have no choice but to cancel, even if they're completely happy with your service.
Here's an example of how Loot Crate gives their customers the ability to "skip" a month of their service.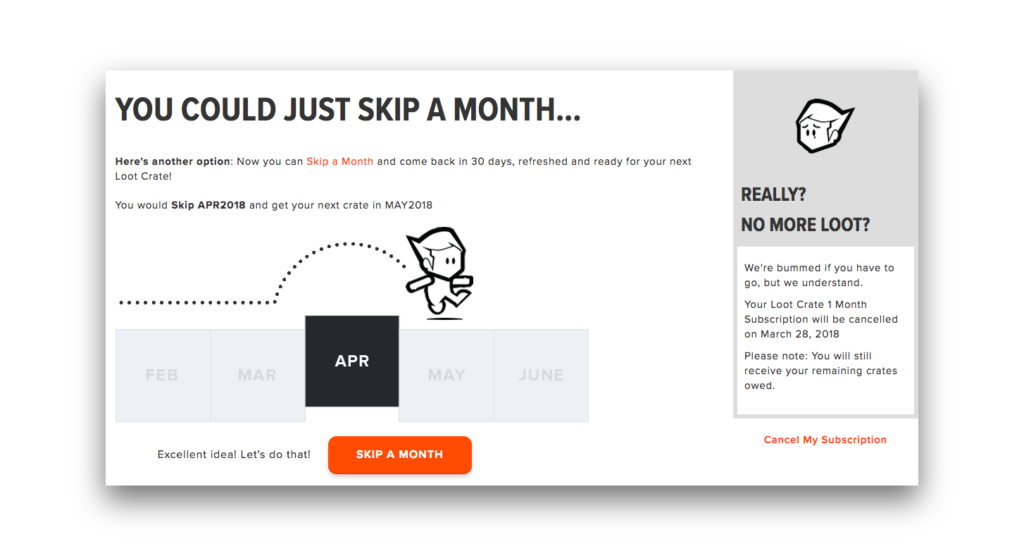 By offering the ability to skip a box Loot Crate is providing their customers better service because they can customize their subscription to better suit their lifestyle.
Again, if you don't have the resources to build this specific functionality into your website then figure out a manual workaround and direct your customers to email your customer service team in the event that they want to pause their subscription.
5. Build Excitement About Upcoming Boxes
Every good marketer knows that consumers love the anticipation leading up to their purchase almost as much as the purchase itself. To put this into perspective, one study found that the simple act of planning a vacation boosted people's happiness for up to 8 weeks.
WIth this consumer behavior in mind, why not apply this to your subscription box business to reduce churn?
By communicating to your customers what will be inside of their upcoming box you can build excitement that will help them see the value in sticking around for another month.
Take a look at one of the ways Birchbox builds excitement for their upcoming box below.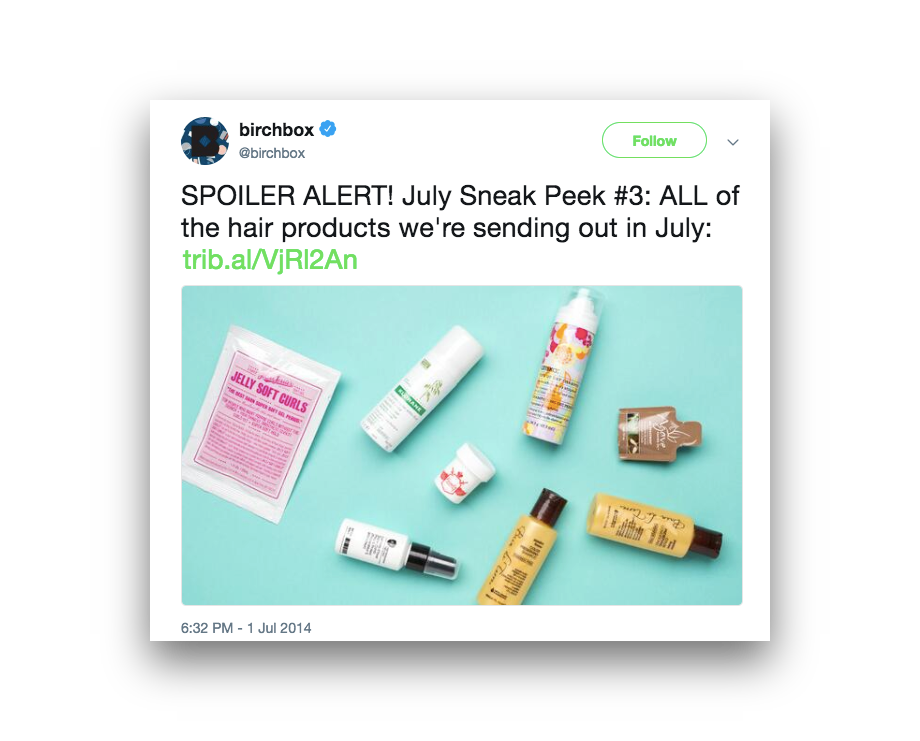 Since not all of your customers will follow you on social media, I recommend promoting your upcoming box with a coordinated campaign across all of your marketing channels each month.
Here are a few ways you can increase engagement and build anticipation to help reduce churn:
Send an email to your customers
Add an insert to this month's box with a description of what's in next month's box
Post a preview to all of your social media accounts
Run a retargeting ad campaign that only targets your current customers
To make this process as easy as possible create the graphics for all of your marketing channels in bulk then use a promotion checklist to keep track of all the tasks associated with this campaign.
6. Offer Downgrade Options
Sometimes your customers might enjoy your boxes but they just don't get enough value out of them to justify the price. If that's the case, it's a good idea to give them downgrade options from within their account.
In the same section of their account where they would normally cancel, make it clear that they have options for downgrading as well. This way you can possibly retain them on a more inexpensive pricing plan rather than losing them as a customer altogether.
Take a look at how Harry's gives their customers downgrade options from within their account.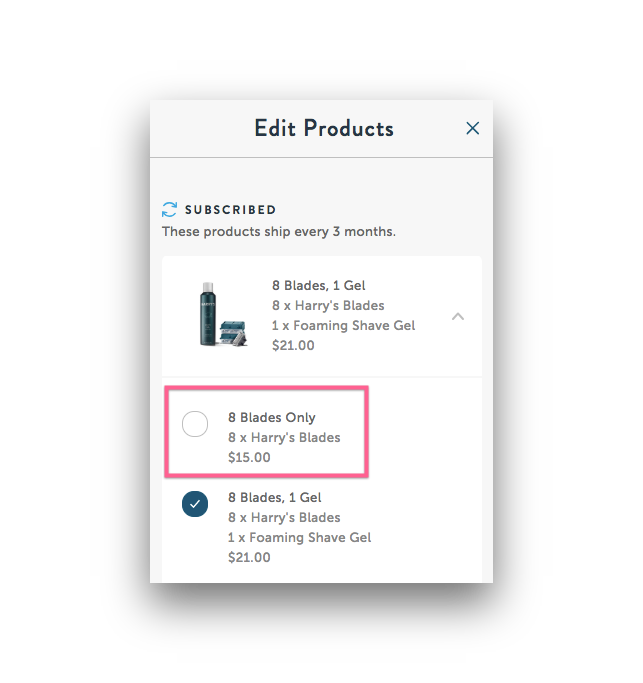 You can also offer a "hail mary" option that you don't advertise on your website. When your customers try to cancel, show them a smaller, more affordable subscription option for them to choose instead.
It might not retain all of your customers that are churning but it should work for those that are sensitive to price.
7. Create A Loyalty Program
Loyalty programs are proven to increase the lifetime value of a customer. For that reason they are especially helpful for subscription box business that are looking to reduce their churn.
With a loyalty program you can incentivize your customers to spend more with the prospect of earning points that they can redeem for more products.
Here's an example of Birchbox's loyalty program. As you can see, their customers earn points for every dollar they spend. This means more loyalty and less churn for their business!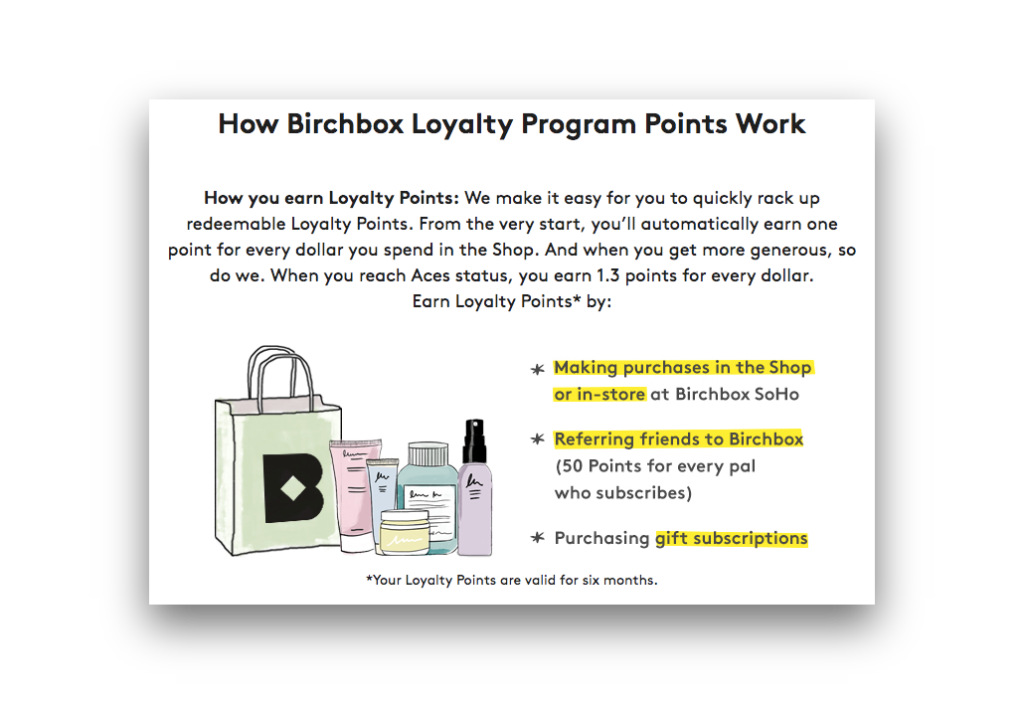 For a quick and easy way to implement a loyalty program for your subscription box business look for a plugin to help you get up and running quickly.
Here are a few that work with the more popular ecommerce platforms out there:
Pro tip: If you know your customers average subscription length before they churn, create a loyalty program that incentivizes them to stay longer than that average length of time in order to redeem their first reward.
Conclusion
Reducing churn is a challenge for any subscription business. Fortunately though, it can be done with the right amount of effort.
By following the tips and strategies I've shared above, you can reduce churn and create a customer retention engine that will pay dividends for the lifetime of your business.
Over To You
Have you implemented any of these strategies for your subscription box business?
I'd love to hear your thoughts! Hit me up on Twitter and let me know what you think.